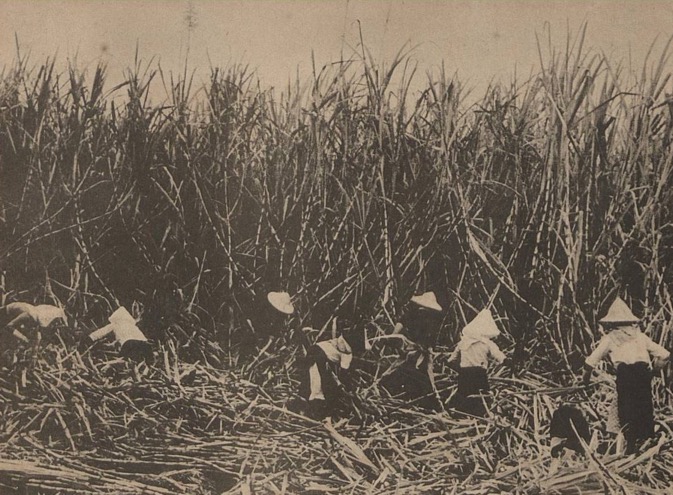 Event 7:30pm
$10 General / Free for Members
Reserve Seats Here
A co-production by Kadist and The Lab, Clair-audience is a performative listening session developed by artist Hong-Kai Wang in collaboration with artists Dohee Lee and Marshall Trammell. The session comes out of a recent conversation among local thinkers and practitioners gathering to speculate about the unrecorded movements of "black ghosts" across the Pacific Ocean–from Taiwan to California– listened to and facilitated by Lee and Trammell.
Pronounced as "oo-kui" in Taiwanese, "black ghosts" leave very few perceivable traces of their whereabouts in colonial Taiwan. Taiwanese sugarcane workers lament "black ghosts" as slaves in a protest song in 1925; 17th-century Dutch painters depict them as Indonesian servants; a Spanish missionary's diary in 1632 mention them as Filipino forced laborers and mercenaries who sought refuge from Native Taiwanese communities; and ornaments of Taoist temples in southern Taiwan immortalize them as mythical creatures. Existing between the limits and possibilities of archives, the representation of "black ghosts" rigorously questions parameters of knowledge and understanding of bodies.
The performative listening session consists of Lee and Trammell's unorchestrated conjuring of the spaces of forgetting and the bodies of the forgotten that transpire during and beyond the prior group conversation. Audiences are invited to actively hear and listen for the voices beyond times and places, while the performers call forth these spaces and bodies through rhythms, beats, words, and movements. All temporalities are considered.
Special thanks to Ziying Duan, Arash Fayez, Ariko S. Ikehara, Diala Khasawnih, Marie Martraire, Githinji Mbire, Dorothy Santos, Christopher Squier, Leila Weefur.
Dohee Lee
A composer and virtuoso performer trained at the master level in dance, drumming, singing, and shamanic music, Dohee Lee is forging a new performance form rooted in ancient Korean shamanic practices. Using the artistic tools of immersive post-modern multimedia performance - choreography, interactive electronic sound and installation and instrument design, elaborate costumes, live video manipulation and animation - she recognizes the medicinal power of personal stories and myth and makes rituals in the service of healing individuals and communities. Collaborating and improvising with musicians, spoken word and visual artists and working in site-specific and intricately designed performance spaces, Lee examines cultural memory, trauma, war, nature, human transformation, spiritual practice embedded in daily life. She creates rituals that change our perception of what performance can be. She has performed and collaborated with Anna Halprin, Kronos Quartet, inkBoat, the Degenerate Art Ensemble, Amara Tabor-Smith, Sherwood Chen, Other Minds, ETHEL, Larry Ochs, Scott Amendola, Joan Jeanrenaud, Kust-Stoff, Francis Wong, Tatsu Aoki and many others. www.doheelee.com
Marshall Trammell, Music Research Strategies / Black Spirituals
Marshall Trammell is his own Chief Investigator at Music Research Strategies (MRS). MRS is his platform for ethnographic investigation, culturally situated design and Solidarity Economics. Mr. Trammell studied under Ron Eglash, Pauline Oliveros and Tomie Hahn as a fellow Electronic Arts Rensallaer Polytechnic Institute in 2006. Relocating back to the Bay Area, he leaves behind his seat on the Merced County Arts Council and his role as Engagement Manager and Music instructor with Merced Youth Drum Corps, an on-going program he co-founded in 2015. Mr. Trammell performs in the electro-acoustic duo Black Spirituals, who have played the Jazz Haus in Copenhagen, Issue Project Room (NYC), the Exploratorium Resonance Series and will return to Europe this Fall. He is the new Music Instructor for Urban Promise Academy in the Fruitvale District of Oakland, CA. http://mrtrammell.wix.com/researchstrategies
Hong-Kai Wang
Born in Huwei, Taiwan, Hong-Kai Wang is an artist, researcher and educator based in Vienna and Taipei. She is a PhD in Practice candidate at Academy of Fine Arts Vienna and a member of the History from Below Network. Hong-Kai Wang's interdisciplinary practice is concerned with politics of missing knowledges and narrative building of radical histories. Through workshop, performance, video, sound work, etc., her work consistently investigates modes of generating poetics of listening and seeks to forge unlikely affiliation beyond received chronologies and geographies. Wang has presented her practice internationally at Spring Sessions (Amman, 2016), Abrons Arts Center (New York, 2016), Parasophia Kyoto International Festival Contemporary Culture (Kyoto, 2015), Lydgalleriet (Bergen, Norway, 2015), Liquid Architecture (Melbourne/Sydney, 2014), Kunsthall Trondheim (Trondheim, Norway, 2013), Para Site (Hong Kong, 2013), Museum of Modern Art (New York, 2013), Iaspis (Stockholm, 2013), Rockbund Art Museum (Shanghai, 2013), Contemporary Art Museum Kumamoto (Kumamotoyy, 2012), Leonard & Bina Ellen Art Gallery (Montreal, 2012), DOX Centre for Contemporary Art (Prague, 2012), Taiwan Pavilion, the 54th Venice Biennale (2011) among others. She is currently part of the MFA Summer Sessions faculty at Music & Sound Department, Bard College. www.w-h-k.net
Images: Sugarcane workers harvesting, c. 1939, Taiwan.