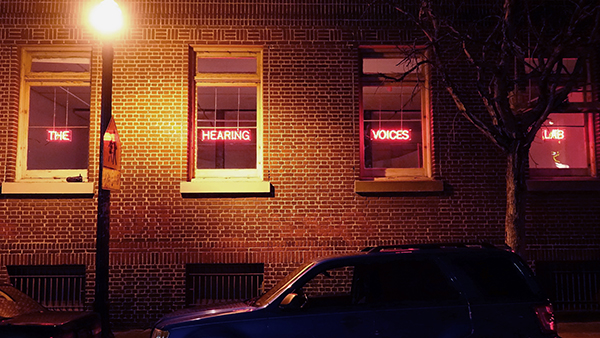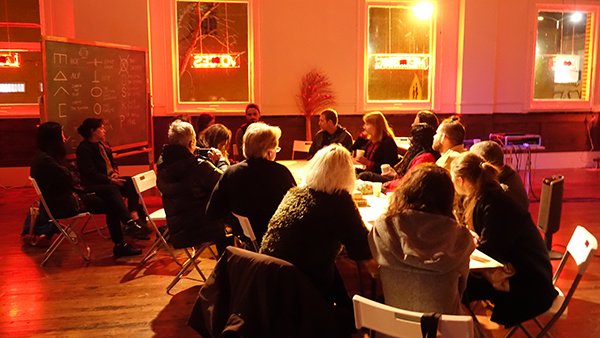 The Hearing Voices Lab is a residency project at The Lab by Spanish artist Dora García and Oslo Academy based artists Oda Skaathun, Eva Rosa Hollup Roald, Miriam Myrstad, Agnieszka Golaszewska, Peter Horneland, Mor Efrony and Sofie Amalie Andersen. The Hearing Voices Lab draws on the ambiguities of the idea of hearing voices – considering that this is something that is done constantly while we exist in public, but as it also describes the phenomenon of hearing inner voices.

Garcia's project will create a situation where such various activities as a Finnegans Wake reading group, a debate on book activism, a jam performance session (Metazone), film projections, a radio program, and talks on archiving, representing, science fiction, extra sensory perception and (books of) revelation can take place. There will also be a number of events on the history and current activities of psychiatry-related resistance and civil rights movements as well as on the relationships between language, mental idiosyncrasies, capitalism and art.

The point of departure for this work is the artist's interest in the voice-hearers' movement, which has its roots in the anti-psychiatry groups of the 1970s and conceives of itself more as a civil rights movement than as a form of therapeutic self-help. The first joint activities came about in Holland in 1987 with the mission of challenging the medical model of mental illness, and from there it spread rapidly to other countries. The Bay Area Hearing Voices Network is of course a very powerful and essential support network.

Voice hearing is not only a widespread phenomenon, but also a cultural-historically significant one. From Socrates to Teresa of Avila, John of the Cross to the American avant-garde writer Hannah Weiner, famous philosophers, believers and poets have regarded voice hearing as a rare talent and a special gift. Other artists have had less positive experiences with this phenomenon, but it nevertheless strongly influenced their work: Sarah Kane, Robert Walser, Virginia Woolf, and Philip K. Dick, to name a few examples. The work of Philip K. Dick will be central as well in The Hearing Voices Lab, and we will refer to such milestones of literature as VALIS, Ubik, The Three Stigmata of Palmer Eldritch, but also such a personal and monumental work as The Exegesis, published in 2011 and edited by Jonathan Lethem and Pamela Jackson.

García's project revolves primarily around exchange, research and destigmatization. Within the regular and bustling operation of the host establishment The Lab, The Hearing Voices Lab will function as a public meeting place for voice-hearers and their friends, people interested in the phenomenon, and coincidental guests. To point out which guests hear voices and which ones don't is irrelevant for the community gathering there.

All programs are free and open to the public and will be hosted at The Lab unless otherwise indicated. For offsite projects, please RSVP to thelabsf@thelab.org.

PROGRAM
Saturday, November 26, 2016
4-6pm Finnegans Wake Collective Reading, Facebook RSVP
Echoing the film The Joycean Society (2013) Dora García will lead a collective reading of Finnegans Wake by James Joyce, delving into issues presented by Joyce's jubilatory writing such as identity, migration, politics, madness and psychiatry. Participants are invited to bring their own copy of this seminal novel for discussion.
Sunday, November 27, 2016
6-7:30p, Projection of the film The Joycean Society by Dora García, Facebook RSVP
A group of people has been reading a book together for thirty years. They have been reading it again and again, with each journey from the first to the last page taking eleven years. Once they reach the last word, a very enigmatic "the," they begin again with the first word, "riverrun." The text appears inexhaustible, its interpretation endless, the inconclusive nature of the reading exciting. More info: www.vdrome.org/garcia.html
Monday, November 28, 2016
1pm–4pm: Imposed Words performance by Dora García
Based on three interviews by Philip K. Dick found in The Internet Archive, Imposed Words is a listening exercise performed on a one-to-one basis, translated into writing.
Tuesday, November 29, 2016
10am–12pm: Visit to The Internet Archive
2-5pm: The Bay Area Hearing Voices Network

Wednesday, November 30, 2016
1–5pm: Visit to the Prelinger Library
6-8pm: Dora Garcia: An ESP Evening at the Kadist Foundation, 3295 20th St, San Francisco
On the occasion of her presentation of the Hearing Voices Café at The Lab, Dora Garcia speaks on her research into ESP (Extra-Sensory Perception). To the reproach that he would never know what people really dreamt, but only how they narrated their dreams, Freud answered: "But I am not interested in their dreams, only in the narration of their dreams". Similarly, what interests Dora Garcia in ESP (Voice Hearing among other perceptions) is not their origin, and even less whether they are "real" or "imagined"; what interests her is how they are narrated by the people who experience them, and how ESP affects them. The artist has collected a number of these narrations, and enjoys comparing them to such iconic moments as the confession of Philip K Dick at the 1977 Metz Science Fiction Conference: "At that time I had no idea of what I was seeing, it resembled nothing that I had heard described, it resembled plasmic energy, it had colours, it moved fast, it collected, and then dispersed, but what it was, what He was, I am not sure even now."
Thursday, December 1, 2016
10am–2pm: Visit to SFMOMA
3–5pm: Conversation with Pamela Jackson, co-editor of The Exegesis of Philip K. Dick
Pamela Jackson undertook the enormous task of reading and excerpting two file-cabinet drawers of Philip K. Dick's handwritten notes. Jackson earned an MA and PhD from UC Berkeley's department of Rhetoric. She wrote her dissertation entitled, "The World Philip K. Dick Made" in 1999. Her article "Sing Out Ubik" appeared in Histories of the Future, Duke University Press, in 2005.
Friday, December 2, 2016
11am-1pm: Conversation with Robert Tacchetto at San Francisco Camera Obscura
The Camera Obscura building, and site, while not exactly belonging nor to literature nor to spirituality, is certainly a place of utopia and community, as if coming from a remembered future.
3–5pm: Conversation with Megan and Rick Prelinger
6-8pm: Hearing Voices Radio

Saturday, December 3, 2016
6–8pm: Dora García's Disorder: of crimes and dreams (60 min; French with English subtitles) and The Deviant Majority (34 min, Italian and Portuguese with English subtitles)
8-10pm: Metazone organized by Oslo Academy artists, a music and performance session open to everyone. Bring instruments! Facebook RSVP
 
Dora García was born 1965, Valladolid, Spain and now lives in Barcelona, Spain. Her work has been shown in major contemporary art institutions, including the MACBA in Barcelona (2003), the SMAK in Gent (2006), the GfZK in Leipzig (2007), and the Kunsthalle in Bern (2010). She has also taken part in several biennales, for instance in Istanbul (2003), Sydney (2008), Lyon (2009), São Paulo (2010), Venice Biennale (2011), DOCUMENTA 13 (2012), and as the winner of International Contemporary Art Prize (PIAC) at the Venice Biennale (2013).