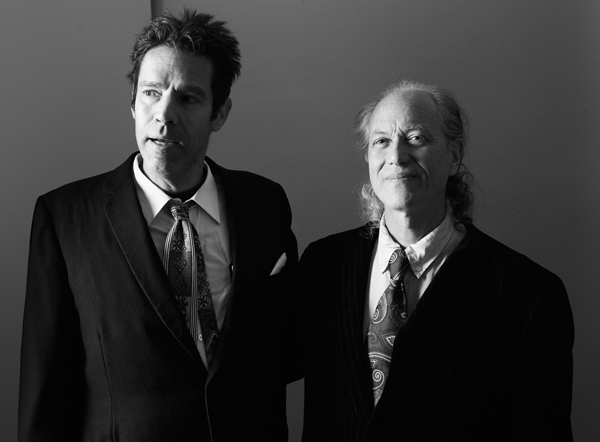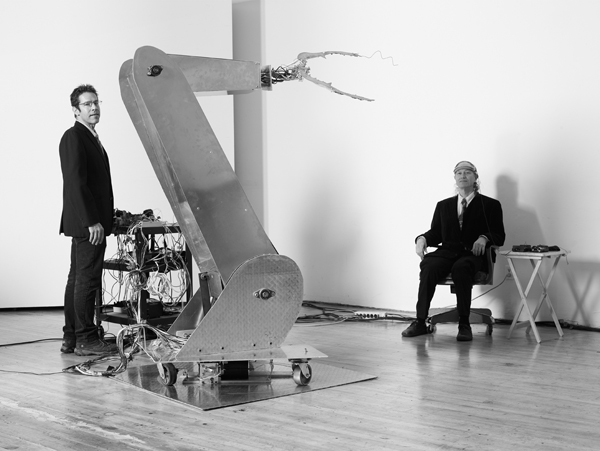 Photos taken by The Lab's photographer-in-residence, Robert Divers Herrick.
Audience members are invited to try and control two giant, scary robots with your brainwaves! It won't be easy, but can you make them kiss? Fight? When two audience members accomplish this feat, everyone is treated to a show of lasers, fog, sound, video, and other cool chaos.
This performative installation is a collaborative project of Kal Spelletich (artist, robot maker), Masahiro Kahata (brainwave control hardware/software), and Mitch Altman (integration hardware and software). This is an experiment in improving people's lives by exemplifying the poetry of the mind. The robots are not programmed, they are responding live to human brain waves.

Spelletich, Kahata, and Altman are interested in exploring and critiquing transhumanism and critiquing the promise that new 'advances' in information and communication technologies will solve our problems and fulfill our dreams. They ask:

Can we translate human emotions into robot actions?
Can this demonstrate to us a new way to instill consciousness? Mindfulness?
Can we create empathy for a robot?
What are robot best at? What are humans best at? In what ways do we intersect
Is there a role for hybrid human machine systems?
Can a robot respond to, represent or convey one's inner desires?

During the performance, volunteers from the audience will be asked to wear EEG brainwave-monitoring helmets. One participant's left-brain controls one robot and the other participant's right-brain controls the other robot. Can they make the robot arms kiss? If they do, the entire audience will be treated to a show of lights!

Mitch Altman is a San Francisco-based hacker and inventor, best known for inventing TV-B-Gone remote controls, a keychain that turns off TVs in public places. He was also co-founder of 3ware (a successful Silicon Valley startup) and did pioneering work in Virtual Reality at VPL Research in the mid-1980s. He has contributed to MAKE Magazine and other magazines, and wrote a chapter for "Maker Pro", a book that was published this year. For several years he traveled around the world giving talks, and leading workshops, teaching people to make cool things with microcontrollers and teaching everyone to solder. He promotes hackerspaces and open source hardware wherever he goes. He is a co-founder of Noisebridge hackerspace, and is President and CEO of Cornfield Electronics. TEDxBrussels talk.

Masahiro Kahata began making electrical systems with Vacuum tube over 50 years ago in Sapporo, Hokkaido, Japan. In the 1960's, he started to use the Transistor and ICs. In the 1970's, he made custom-made Stereo & PA systems with OpAmp, analog & digital I/O system with LEDs, etc. at Psychic Lab. He became more interested in UFO and psychotronics than electronics – psychotronics stands for the interdisciplinary study of the interaction of matter, energy, and consciousness. In 1983, he developed brain wave interactive I/O system with Lisa computer (first consumer computer with human interface) and other computers such as Apple II, CPM, Rockwell. Since 2002, Kahata had developed a new function of coherence in the IBVA, which shows visually how to synchronize the two sides of the brain. In October 2014 Kahata created brain-duino MetaVolutiON project with Metamind in Berlin.

Kal Spelletich explores the interface of humans and robots, using technology to put people back in touch with real-life experiences. His work is interactive, requiring participants to enter or operate his pieces, often against their instincts of self-preservation. He probes the boundaries between fear, control and exhilaration. He has exhibited at The Catharine Clark Gallery, Gallery Maeght and the De Young Museum, all in San Francisco, SFMOMA, all over the world. He was awarded San Francisco Art Commission funding for 2016.

The artist would like to thank Jonathan Foote, Willi Döring, Silver Kuusik, and Robert Langer for their help with this project. Kal Spelletich: Split Brain Robotics is supported by generous grants from the San Francisco Arts Commission and The Zellerbach Foundation.